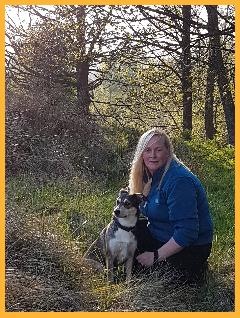 Hi, my name is Gillian Atkins.

I was born in Greenock and have stayed in the area all my life, attending Gourock primary, Gourock High and James Watt college.

I volunteer for the ALFI group which helps support people within the community learn newskills. I also coach a football team for over 5 year olds, which is great fun!

When my two boys Logan and Declan started school full time, I began looking for work in the area and struggled to find a conventional job that allowed me to be able to pick them up after school. I needed something flexible.

When you consider swimming lessons, Beavers/Cubs, Football training and also my own volunteer work, you can see how this would be challenging to most employers.

Everyone has these types of commitments I know, I just really wanted something that fitted in.

It was my partner Iain that suggested dog walking! He by chance happened to see a dog walkers van driving through Manchester.He knows only too well how much I love animals.

I have been extremely fortunate to have had dogs around me from as far back as I can remember.

It's funny how sometimes the most obvious job for everyone can be literally staring them in the face.

Since starting Mighty Pawz, I have never looked back. It has all worked out perfectly and I feel that I'm one of the lucky ones doing exactly what I love.